Reliable Information,
Critical Insight
With MIC's depth of experience and knowledge, we strive to provide our clients with dedicated risk protection and peace of mind.
In today's competitive global marketplace, reliable information and critical insight are the keys to success.
MIC Worldwide is a global, corporate investigative and security consulting firm founded and run by Americans based in Latin America. We cater primarily to U.S. and European clients requiring corporate investigative, business intelligence and risk mitigation services throughout Latin America.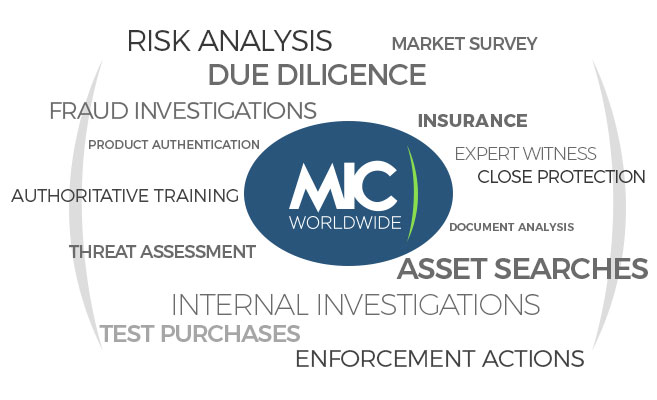 Technology & Electronics
Securing supply chains to ensure that only genuine products reach consumers.
Banking & Finance
Managing compliance globally through know your customer programs.
Motion Picture & Entertainment
Protecting talent, sets and assets from threats and unanticipated delays.
Insurance
Uncovering fraud, identifying offenders and optimizing results.
Business Travelers
Removing threats across physical and cultural barriers.
Legal
Identifying individuals, assets and critical information.
The industries listed above are a sample set of industries MIC Worldwide has worked within. With our vast operating knowledge and professional service, we are here to exceed your requirements.
Miami
1395 Brickell Avenue, Suite 900
Miami, FL, 33131
U.S.A.
Buenos Aires
Vuelta de Obligado 1878, 10-D
Belgrano, Capital Federal, Argentina
Asunción
Aviadores del Chaco 2050
Torre 4, Oficina 8-A
Asunción, Paraguay